I know that I have said it before, but Spring really gets me inspired! There are so many fun things to do with the kiddos! We had planned on going to see the Cherry Blossoms in DC this week. However, due to the weather, and my aversion to cold rain, we are not going to go. Maybe they will still be around next week. I think both of the older girls would love to see them! They are just so beautiful- and inspiring. Not sure what they inspire me to do, but I know that all Spring I feel like trying new things.
So..........here are a few really cute Spring and Easter crafts. I would love to try them all- alas I have to sleep. Please check them out though, and the super cool blogs that they come from. Just click on the caption below the picture to get all of the info and to visit the blog.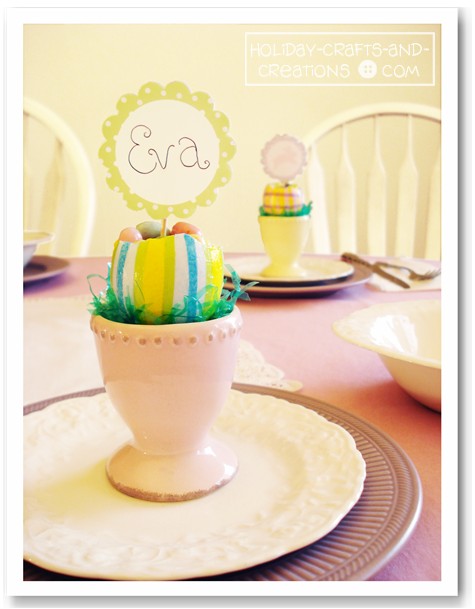 Easter Egg Candy Cup Place Card Holders from Holiday Crafts and Creations
Just a few things to keep you guys busy! I guess when I say I don't have the time to do all of these things what I really mean is that I don't have the energy. I am going to try though. Let me know if you have any favorite Spring or Easter crafts. Here's something interesting that I found: Martha Stewart has 62 different ways to dye eggs on her website- 62!!! Wow. I better go get started.